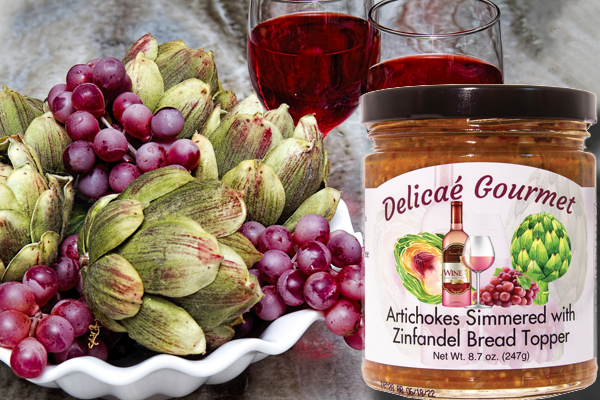 About Our Wine Infused 
Bread Toppers
Our wine infused bread toppers make delicious appetizers simple. They can be used 
the same way you might use a Bruschetta Topper for quick and easy wine infused hors 
d'oeurves. Serve them on your next charcuterie board with aged cheeses and meats. 
We love to toss them with pasta to take antipasto salad to the next level - try our Artichokes 
Simmered with Zinfandel Wine Infused Bread Topper with rotini pasta, salami, olives, 
tomatoes, peppers, and shaved parmesan for an elevated take on a rustic classic. 
Items:
1
–
3
of
3
, per page
This simple and classic bread topper is a delicate blend of artichokes simmered in Zinfandel wine with olives, balsamic vinegar, garlic, and Italian herbs. It makes the perfect finishing touch for braised chicken dishes and is a flavorful and savory addition to simple antipasto salads. Serve this with your next Italian charcuterie board.

GLUTEN-FREE

Select 12-Pack for 10% volume discount.

This olive medley chardonnay bread topper is an elevated version of a classic olive tapenade. We carefully blended black olives, kalamata olives, tomatoes, garlic, an Italian herbs with chardonnay to create this rich, full-bodied, and decadent appetizer. This carefully balanced blend of flavors works well as a finishing touch for chicken or fish dishes, and makes a wonderful vinaigrette for salads or antipasto when blended with balsamic.

GLUTEN-FREE

Select 12-Pack for 10% volume discount.

The rich blend of sun-dried tomatoes and Merlot wine is perfect over thick slices of fresh mozzarella cheese on toasted bread. The classic combination of tomatoes and red wine is a superb flavor enhancer for every Italian dish. Serve on your charcuterie board with salami, capicola, pancetta, or prosciutto.

GLUTEN-FREE

Select 12-Pack for 10% volume discount.